Welcome to the Pilot & Owner Survey Contest winners page!
Our survey ran for six months between January 1st and June 30th, 2014. We received 1016 survey responses, and 972 pilots and owners participated for the chance to win one of five Apple® iPad Minis we offered as prizes. On July 1st 2014 we held a random drawing of all survey respondents that provided us their email address, and picked five lucky winners. We contacted the winners by email to get their mailing addresses and will ship each prize on Thursday July 3, 2014.
Here are the winners:
Barney Davis - Phoenix, AZ
Mahlon Smith - Oklahoma City, OK
Paul Nettleton - Crossville, TN
Robert Johnson - Monte Rio, CA
Bill Cooke - Lakeland, FL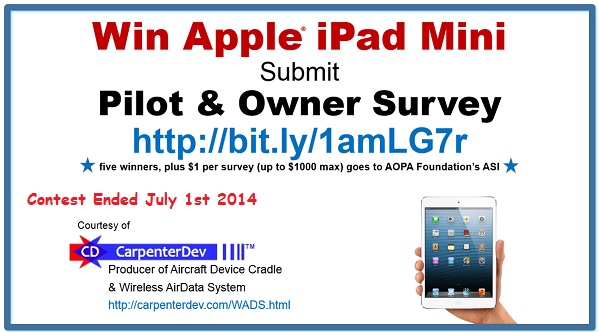 Congratulations to the winners!
Also, we thank each and every person that submitted a survey. Your feed back is very valuable to us. We hope you will visit our survey results page and tweet each of the handheld and app manufacturers so that they will know how important adding TAS, AoA, and DA to their products is to you.
Click for survey results.
Please contact us if you have any questions.